Okuyamba Screens in Serbia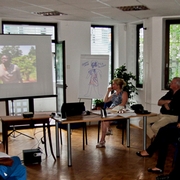 The reach of Okuyamba has continued to grow. The documentary was recently screened in Serbia in conjunction with the "Social Transition" program presented by BELhospice June 4-7. As part of the program, BELhospice organized the first education for 15 interested volunteers. They had lecturers about volunteer's roles within palliative care and presented examples of the volunteer work in hopices in France and Uganda, including screening Okuyamba as a part of their closing session.
Lecturers at the training program included: Mrs. Nadezda Novakovic and Mr. Freddie Glans, volunteers and members of the French association for the volunteer's training Albatross; Mr. Zoran Purkovic, BELhospice's director; Dr. Snezana Davidovic and nurse Bojana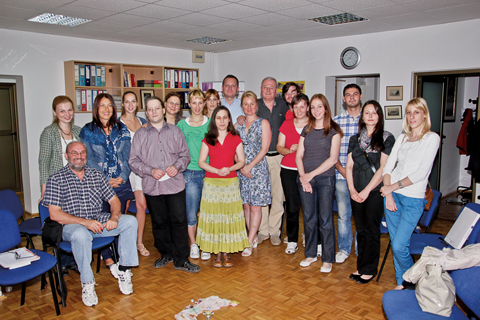 Vuckovic from BELhospice; Ms. Tamara Klikovac, clinical psychiatrist from National Institute for Oncology and Radiology; and Rev. Jovan Blagojevic, theologian and chief editor at Serbian Orthodox Church Radio "Slovo Ljubve."
BELhospice is the first specialized charity organization in Serbia that provides palliative care to cancer patients during the last phases of their illness. BELhospice takes care of its patients free of charge, despite the fact that it is not part of the National Health Care system of the Republic of Serbia, and thus not entitled to public budget funds.
About 20,000 cancer patients die each year in Serbia, of which 6,000 people die in Serbia's capital of Belgrade. According ot available data, one-third of cancer patients die in hospitals while for others there are no relevant statistics. Having this reality in mind, as well as the fact that in Servia there are no specialist facilities which would take care of terminally ill patients, BELhospice was established in Belgrade on May 20, 2004 as the first palliative care a nd palliative medicine center in Serbia.
The center was established with the idea of being a model for the development of palliative care services for patients and their families as well as becoming an educational facility for relevant professionals, volunteers and the general public. Ultimately the center will hopefully contribute to relevant policy and legislation on the national level to consider incorporating palliative care within the existing health care system, both at governmental and non-governmental levels (charities).