The Film
Okuyamba, the Lugandan word meaning 'to help,' focuses on the common mission shared by a small band of palliative care nurses working tirelessly to ease the pain and suffering of AIDS and cancer patients, dying deep in the rural villages of Uganda. As the film opens, it is a typical day in Uganda. With the Muslim pre-dawn prayer chanting in the background, a new day beckons. Banana farmers take crops to market and children make their way to school. But for Rose Kiwanuka, Uganda's first palliative care nurse, her day begins with a trek to a village deep into the Ugandan bush where dying patients eagerly await the arrival of she and her colleagues, who bring them comfort and care.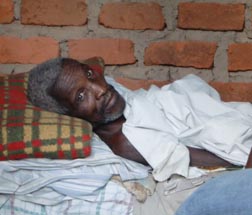 As national coordinator for the Palliative Care Association of Uganda, the film documents Rose's travels throughout the country as she works to train, support and encourage the nation's 120 palliative care professionals by working alongside them to care for patients living in remote villages. While not spending time in the field, Rose is recruiting health care workers to join her in this important work and advocating in support of palliative care issues with parliamentarians and other government officials. The film follows her journey and that of other specially-trained nurses as they work to relieve the physical, emotional and spiritual pain of patients and their families while at the same time respecting the cultural beliefs and traditions of those for whom they care. While many may find all this a hopeless task, Rose operates with the simple philosophy that, "We do as much as we can, as well as we can, with the little we have."
Using brief, purposeful interviews with some of Uganda's leading palliative care professionals and subject matter experts, the film exposes the viewer to the harsh realities of living with life-limiting illnesses in this small, land-locked East African country. From the training of traditional healers in the Buyija Forest to that of nurses and clinical officers at Hospice Africa Uganda, the film explains the interrelationships between traditional and western medicine as well as the manner in which they complement one another in the identification and care of dying patients.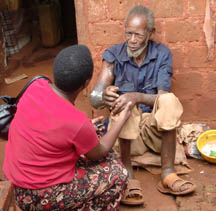 Viewers are reminded throughout the film that Ugandans living in rural areas have little or no access to adequate pain control, little or no access to hospice and palliative care, and exist in desperate situations of suffering, poverty, and isolation. With the availability of health care very low, the vast majority of Ugandans go their entire lifetime without ever seeing a physician. For those living in the villages, there is one doctor for every 50,000 people. Consequently, nurses assume a major role in health care. With a high incidence of HIV/AIDS and cancer and limited facilities for treatment, a diagnosis of either is generally viewed by the recipient as a death sentence.
Once the majority of Ugandans contract cancer or another life-limiting illness, they are left with no opportunity to pursue curative treatments. As a result, seeking palliative care to help relieve the physical, emotional and spiritual pain they may be suffering is the only alternative. Viewers get an inside glimpse of the country's only radiation center for the treatment of cancer and see some of those patients fortunate enough to be able to travel to the capital city of Kampala only to discover the next obstacle to their treatment: the fact that the machine is either in need of repair or unable to operate due to the frequent and often prolonged disruptions to electrical power. Many lack the financial resources, means, or will to travel at all. Consequently, the mortality rate, and corresponding need for palliative care, is very high. All of these facts help account for Uganda's low adult life expectancy of 52 years and why over one half of the country's 33 million people are under the age of 15.
The documentary closes with a powerful statement by Dr. Faith Mangi-Powell, executive director of the African Palliative Care Association, as viewers share a touching moment with a dying patient. Happy that he is able to raise his son to his lap, he praises God for the care, support and relief he has received from the palliative care team that has helped to ease his pain and suffering.