Find A Screening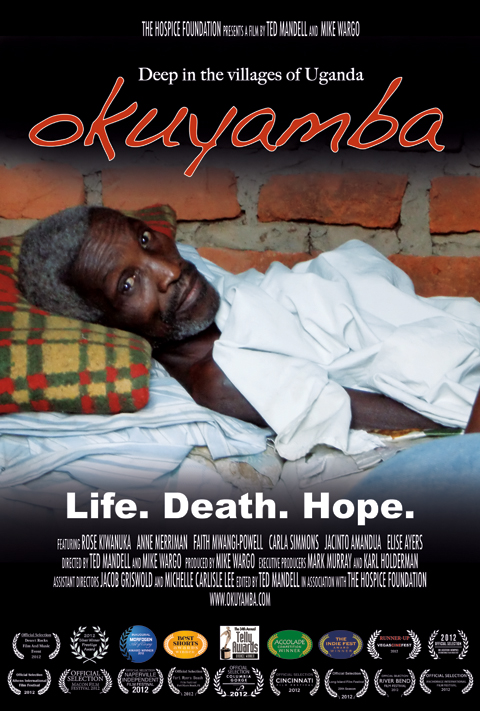 Okuyamba has been entered into many film festivals across the country and acceptances are starting to roll in. Screenings of the documentary will be taking place in conjunction with many of these festivals. Check back often to see if there are any scheduled screenings in your area.
Also, in conjunction with Foundation for Hospice and other partnering organizations across the world, Okuyamba will be screening in various locations. These screenings will help spread awareness of the issues confronting palliative caregivers not only in Uganda, but all of Sub-Saharan Africa, and many other countries. Check back often to see if any screenings are scheduled in your area.
Interested in hosting a screening in your community? Learn more about the tools we can provide you with to make your screening an event.
Scheduled Screenings:

View Okuyamba Screenings in a larger map
Upcoming Screenings:

No Screenings Scheduled at this Time

Previous Screenings:
Pennock Hospice
November 6, 2014
Hastings, MI

University College Dublin
November 4, 2014
Dublin, Ireland

Puerto Rico Hospice & Palliative Care Association
April 11, 2014
Dorado, Puerto Rico

IU South Bend
April 10, 2014 @ SAC 225, 223 and 221
South Bend, IN

Holy Cross College
March 25, 2014 @ Driscoll Hall Auditorium @ 6:00pm
Notre Dame, IN
Halifax Health Hospice of Volusia/Flagler
March 11, 2014 @ Halifax Health Hospice of Volusia/Flagler
Port Orange, FL
Providence Hospice
June 6th, 2013 @ Providence Willamette Falls Community Center Auditorium @ 6:00pm
Oregon City, Oregon

Providence Hospice
June 4th, 2013 @ Providence St. Vincent's Medical Center Southern Auditorium @ 6:00pm
Portland, Oregon

Long Island Film Festival
February 24, 2013 @ the Hyatt Regency Long Island at Wind Watch Golf Club
Hauppauge, New York
Anchorage International Film Festival
November 30 - December 9, 2012
Anchorage, Alaska
Visiting Nurse and Hospice Care
October 31, 2012
Santa Barbara, California
Samaritan Healthcare & Hospice
October 14, 2012
Marlton, New Jersey

Hospice of Washington County, Inc.
October 12, 2012
Hagerstown, Maryland

World Hospice and Palliative Care Day - Okuyamba Fest
October 11, 2012 @ Northern Indiana Center for History/Studebaker Museum @ 5:30pm
South Bend, Indiana

FHSSA World Hospice & Palliative Care Day Celebration at UCLA
October 10, 2012 @ James Bridges Theater @ 7:00pm
Los Angeles, California
Hosted by FHSSA and Torrey DeVitto, Actress, Advocate & Hospice Ambassador

Hospice & Palliative Care of Western Colorado
October 9, 2012
Grand Junction, Colorado

LeadingAge Indiana Conference
October 9, 2012
Indianapolis, Indiana

Vegas Cine Fest
October 5th, 2012 @ Palms Resort & Casino in Screening Room 4 @ 12:17pm
Las Vegas, Nevada

Gilchrist Hospice Care
September 21, 2012
Hunt Valley Maryland

Naperville Independent Film Festival
September 16, 2012 @ Classic Cinema Theatre #5 @ 10:45pm
Naperville, Illinois

Cincinnati Film Festival
September 8th, 2012 @ Clifton Cultural Arts Center @ 11:30am
Cincinnati, Ohio

Columbia Gorge Film Festival
August 16, 2012 @ the Vancouver Community Library @ 12:00pm
Vancouver, Washington

Palliative Care Advocacy Workshops for Parliamentarians
July 24, 2012
Kampala, Uganda

Culver Chamber Meeting
June 5, 2012 - Meeting starts at 6:30pm
Roberts Auditorium in the Roberts Hall of Science at Culver Academy
Culver, Indiana

Palliative Care Training Course Presented by Bel Hospice
June 4-7, 2012
Belgrade, Serbia

Hospice and Palliative Care Network of Maryland 2012 Annual Meeting
May 10, 2012
Presented by Gilchrist Hospice Care and FHSSA
Turf Valley Country Club in Ellicott City, Maryland

Desert Rocks Film and Music Event
May 5, 2012 @ Cinemark Jess Ranch Theater 10:40am in Theater 11
Apple Valley, California

Fort Myers Beach Film Festival
April 27, 2012 @ Beach Theater @ 3:00pm
Fort Myers Beach, Florida

On Location: MEMPHIS | International Film & Music Fest
April 20, 2012 @ Malco's Ridgeway Four @ 4:00pm
Memphis, Tennessee

Athens International Film and Video Festival
April 16, 2012 @ Athena Cinema @ 12:46pm
Athens, Ohio

River Bend Film Festival
April 13, 2012 @ Century Center Recital Hall @ 7:00pm
South Bend, Indiana

NHPCO Management and Leadership Conference
March 29, 2012 @ 3:40pm
Potomac 5/6 at the Gaylord National Resort & Convention Center
National Harbor, Maryland

Goshen College
March 26, 2012
Goshen, Indiana

Notre Dame University**
March 21, 2012 @ The Hesburgh Center for International Studies Auditorium
Notre Dame, Indiana
**Private screening for Notre Dame students, faculty and staff

Indiana University South Bend*
March 19, 2012 @ Weikamp 1001
South Bend, Indiana
*Private screening for IUSB students, faculty and staff

Macon Film Festival
February 16, 2012 @ Cox Capitol Theatre @ 3:00pm
February 17, 2012 @ Douglass Theatre @ 9:10pm
Macon, Georgia

Introduction fo Hospice and Palliative Care Class
October 12, 2011
Notre Dame, Indiana

Requested Screenings:
The Denver Hospice and Optio Health Services
Denver, Colorado

St. Luke's Hospice Community
Cedar Rapids, Iowa

Dr. Robert A. Carter
Kijabe, Kenya

Endo
Chadds Ford, Pennsylvania/Washington, DC

Prairie Haven Hospice
Scottsbluff, Nebraska

Talbot Hospice Foundation
Easton, Maryland

Duke Global Health Institute
Durham, North Carolina

Cornerstone Hospice
Central Florida
Kaiser Oakland Hospice
Date to be announced
Oakland, California
Jifundishe Free Library
Ngongongare Village in the Arusha district of Tanzania